From smaller microbrewery and craft brewery facilities to a large scale brew house, breweries require a reliable supply of hot water and steam heating to create great beer and operate their facilities. United Boiler offers expert installation, prompt repair service, and ongoing maintenance to ensure breweries can meet their production quotas safely and reliably, with little to no downtime.
Brewing operations use steam and hot water for many of their most critical processes in crafting various brews. These include:
Providing hot water at regulated temperatures at various stages of the brewing process itself;
Sterilizing and sanitizing equipment, taprooms, tools and storage kegs; and
In some cases, providing heat for the factory itself.
Between fluctuations in demand at different times of the day and the numerous ongoing needs of the facility, steam boilers in breweries can experience a lot of wear-and-tear, as well as scale buildup from mineral deposits that can cause stress and affect performance. If a steam system fails, it can bring the entire brewing process to a halt, costing the brewery sometimes thousands of dollars a minute in revenue.
Steam Boiler Services for Breweries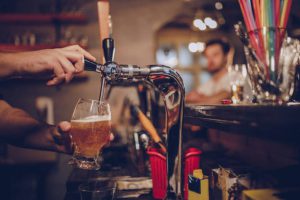 United Boiler can work to your brewery has reliable, on-demand steam and hot water 24 hours a day if need be — and if your brewery boiler goes down, we can have you up and running again sometimes within minutes. Here's how we can help:
Scheduled and emergency repairs. Any time of day or night, we are available to respond to boiler room failures. Our crew works tirelessly to pinpoint and resolve the cause of the problem. If need be, we can draw from our fleet of rental boilers and have your brewing process up again before the end of the work cycle.
New boiler installation. Whether you are building a new craft brewing facility or replacing an aging boiler, our skilled team can configure and install a boiler system to your company's needs and specifications.
Consultation. Got a heating system performance issue you can't solve, or need advice on maximizing your boiler systems output? We provide expert consultation to get you the answers you need.
Preventative maintenance. For optimum ongoing steam boiler performance with little to no downtime, let our team perform regular maintenance and health checks on your boiler system.
We help craft beer makers all over Georgia maintain maximum productivity with expert repair and maintenance of their steam boilers and brewing operations.