Fitness centers, natatoriums, and other aquatic centers all require a steady, reliable supply of hot water and steam to keep their operations running smoothly and their members happy. That's why these facilities look to United Boiler for quality maintenance, installation, and equipment repair services to maximize safe operations and minimize downtime.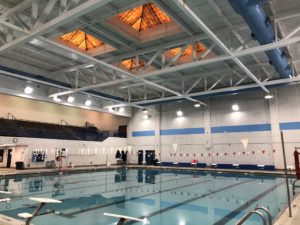 Steam boilers serve several critical functions in any fitness and/or aquatic center — some less obvious than others. For instance:
Providing heated water for natatoriums, such as swimming pools, saunas, and jacuzzis
Providing hot water for showers and steam rooms in the locker rooms
Cleaning and sanitizing towels and other laundry
Cleaning and sanitizing floors, showers, restrooms, and equipment
Food preparation (if the facility provides food service)
Heating the facility itself
At most times of the day, and especially during open hours, health club and pool facilities need a steady, heavy supply of steam and hot water, which can put a great deal of ongoing stress on boiler units. If it's a 24-hour facility, the demand is even greater. If the boiler system goes down, the facility must effectively close for business until repairs are made, resulting in unhappy members and potentially thousands of dollars in lost revenue.
Boiler Services for Fitness Centers & Natatoriums
At United Boiler, our team of experts can solve any issue regarding boiler systems for fitness/aquatic facilities. We provide the following:
24-hour full-time repair service. When a boiler goes down, time is money and minutes count. As your boiler service provider respond quickly to equipment repair calls any time, day or night, to get you up and running again as quickly as possible.
Installation. We install boiler systems in new construction fitness facilities, and we replace aging boilers with minimal amounts of downtime.
Maintenance. Stop problems before they start by hiring us to perform ongoing preventative maintenance on your boiler system.
Consultation. From boiler system design to troubleshooting performance issues, we consult with fitness centers across the country to help them get the most from their boiler systems.
Boiler rentals. In situations where extensive repairs are needed, we can get you operational in hours by installing a temporary turnkey boiler rental unit.
If you operate an aquatic center or fitness center, you know your boiler system is critical to your success. Don't take chances with it — call our professional repair service team who can help.